Lily Bobtail spent the early part of her life in a burrow...
On the edge of a town, complete with cobbled streets and horse-drawn carriages.
She often had her nose in a book from her father's office. When Dr. Bobtail is called to take up a practice in the woods, Lily finds herself in a world she's never quite experienced but can't wait to get to know.
Lily is finding out what it's like to be a truly wild rabbit
Before she met Peter and Benjamin, Lily had never dug a hole, squeezed down a narrow tunnel, or been chased out of a vegetable patch by an angry gardener.
She relishes new experiences and nothing can stop her from joining in. Feisty and plucky, Lily shares Peter's love of adventure and the great outdoors. She also has the loudest whistle Peter's ever heard and can jump the highest of all of them. Okay, she might do odd things (like talk to her pet ladybug, Florence) and she might have strange ideas (like thinking she can "reason" with Mr. Tod), but time and again Lily proves to be a real asset to the team.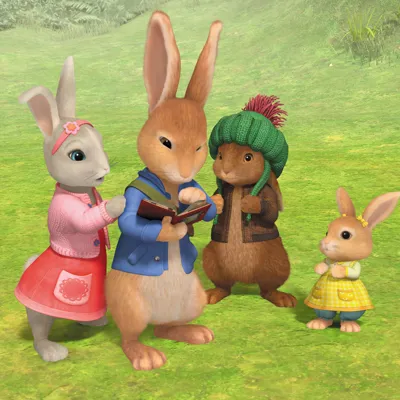 Lily's bookish side
While her wide-reading and terrific memory might make her come across as a bit of a know-it-all at times, her rigorously logical approach and attention to detail can also help the rabbits see something vital that they might have otherwise missed.
Peter and Benjamin might not have known what to make of this newcomer from town when they first met her, but these days they couldn't imagine going on one of their epic adventures without her. Lily is certainly their new best friend.
"I know THAT for a fact!"
"Just in case pocket, just in case!"
Explore more character bios