Redeem a promotional voucher
For any discount vouchers that states it cannot be used for online booking, this is no longer the case - all discount vouchers can and must now be used online. See below for guidance.
IMPORTANT: YOU MUST BRING YOUR ORIGINAL DISCOUNT VOUCHER ALONG WITH YOUR TICKET TO ENTER THE ATTRACTION. FAILURE TO PROVIDE THE CORRECT, VALID VOUCHER WILL VOID YOUR TICKET PURCHASE.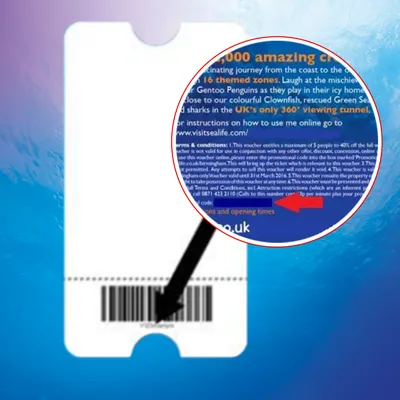 YOUR VOUCHER CODE
Most discount vouchers for the attraction will have a code printed on the voucher, usually towards the bottom – it will generally begin with the letter 'V' followed by a small string of numbers.
Some codes may NOT begin with V, but will still be found near the base of the voucher either under Terms and Conditions or under the bar code and consist of a small number of numbers and/or letters.
Try your code below – if it is a valid code, it will take you to your relevant offer, if you are still experiencing issues, scroll down for further options.